CAIS Behind the Scenes: The Pilgrim's Progress
BEHIND THE SCENES
We live and think in metaphors. That's because it is easier for us to make sense of unknown uncertainties by relating them to things that we are familiar with. We take, for example, the ups and downs of life and make sense of them using the narrative of journey or adventure. This way of thinking acts as a therapeutic buffer fortifying us for the hardship we encounter throughout life's journey. Going on a journey is also the theme in the newly launched project of Richard Nadar and his co-host Dr Jonathan Johnson. Together they invite us to embark on a journey through the beloved classic Pilgrim's Progress by John Bunyan. To kick off our new series "Behind the Scenes", we sat down with Richard to talk about this project. We hope you enjoy the read as much as we enjoyed having the conversation.
Vinod
Richard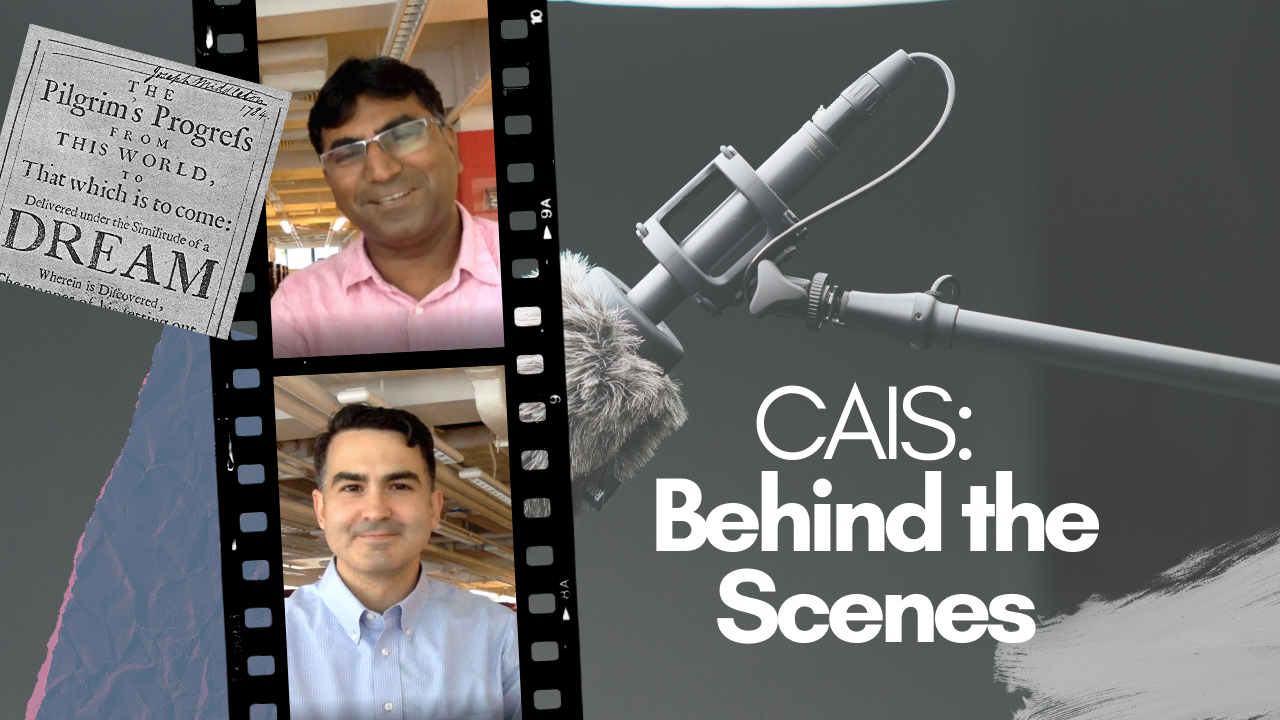 Hi Richard, we go back a long way and I am always amazed at the things you have on your plate. You have a fairly demanding teaching load with your Christian Ethics courses and AP courses (Psychology and History) preparing students for these high stakes exams. I know besides that you have recently completed some online courses as varied as Contract Law with Harvard University and Church History from Ancient to Present with Ligonier Ministries. You are a learning machine! And now you have teamed up with Dr Johnson in producing this series on Pilgrim's Progress. Do you ever sleep?
 If I have to use an analogy of my sleep pattern, then I'm an owl for sure. The most productive time for me is during the night. It's quiet and calm, and I carry on with my work. I sleep at around 12:30 or 1:00 a.m., and I wake up by 6:00 a.m. during school week. To make this possible, I keep watch over my biological clock, combined with food and exercise.
This is the launch of our new series Behind the Scenes where we look at the amazing work our teachers are doing above and beyond their teaching duties and explore the whole spectrum from idea to launch in order to share their journey with our readers. You are the first of many we hope to profile in this series. So coming back to Pilgrim's Progress – what is the idea, I mean, what prompted you to do this? And why this book?
I was having a conversation with my colleague, Vinod Khiatani from CAIS Advancement Team, and he brought up the idea of book study during school closure.   I took inspiration from a Facebook series on CS Lewis' 'Mere Christianity' hosted by Brad Zockoll, Senior Bible Teacher at Grace Christian Academy. I discussed with Vinod as we both enjoy reading classical literature and felt that we are missing out on the value of reading the classics, especially from medieval or ancient times.  I eventually decided to do something about it and took on Pilgrim's Progress by John Bunyan to kick off this book study project.
Pilgrim's Progress is a classic and is voted as number one best read novel apart from the Bible. And so, to bring the same awareness to people, I decided to make this series. Most importantly, being a Christian Ethics teacher, doing this book means it's an education on the biblical redemptive story, theology, and wisdom for living.
So you had the idea, how did you go about implementing it? What was your first action item or if I may phrase it differently, how did you get the ball going?
I wanted this to be a collaborative project as I did not want to do the study by myself. I then reached out to Pastor Johnson from Island Baptist Church. He was excited about this because he also had done the series before. Hence, the birth of the weekly project CAIS Insights: Pilgrim's Progress.
The reason I asked the question was because we (students included) all have these great ideas and projects we want to do and more often than not, it fizzles away and never sees the light of day. We get bogged down with the complexities of the project and what not, but fail to take the initial step because in most cases, we don't know what first steps to take. What would your takeaway lesson be here?
I think I often remind my students about Nike's motto, which is 'Just do it'. It's sometimes not enough to have good ideas, but you must act on it. And so, my takeaway lesson here is to work on the idea after talking with Vinod, I contacted Pastor Jonathan and shared with him about the project and in no time, we laid out a rough plan and started working on it.
How do you envision this project will unfold? Are you going to be producing more videos like this and how are you going to decide which book(s) to tackle next?
This project will provide for us lots of insight as to how the entire program unfolds for us. We'll actively seek feedback, and I envision I will do similar series in the future on books from CS Lewis or other good classical literatures.
I understand Dr Johnson pastors an international church, so who are the audience you are trying to reach with these series?
The approach is to bring these classics to the general audience who may not be aware of them and get them excited. And so, we are looking at teachers, students, church leaders, members, etc., who can use this to further their learning process on classical Christian education.
I have previewed the introduction and I liked it. I am looking forward to the remaining episodes. From my point of view, it looks so effortless, what are some of the challenges you had in doing this project?
The introductory series was fun to make. One of the challenges was to select relevant information that we wanted to include in the video as we wanted to keep the video short and succinct – limit to 20 minutes in length. We are also hoping that the audience will be inspired to learn more about the ideas in the book. Since this is the first time we are collaborating on this project, we are slowly adapting to our styles of how we think and communicate with each other.
I know you are a busy man and really, I don't know how you do it but I am glad you do. I wish you all the best in this and future projects. Thank you for sharing with us.
CAIS Insights: Pilgrim's Progress will be posted every Wednesday. Be sure to check in and better yet, form a study group and go through the series together. It could be during lunch or over supper. The videos are in 20 minutes segments so it would be easy to watch, eat and discuss within an hour.