R

i

s

i

n

g

t

o

t

h

e

c

h

a

l

l

e

n

g

e

o

f

r

e

a

c

h

i

n

g

n

e

w

h

e

i

g

h

t

s

:

R

i

c

h

a

r

d

N

a

d

a

r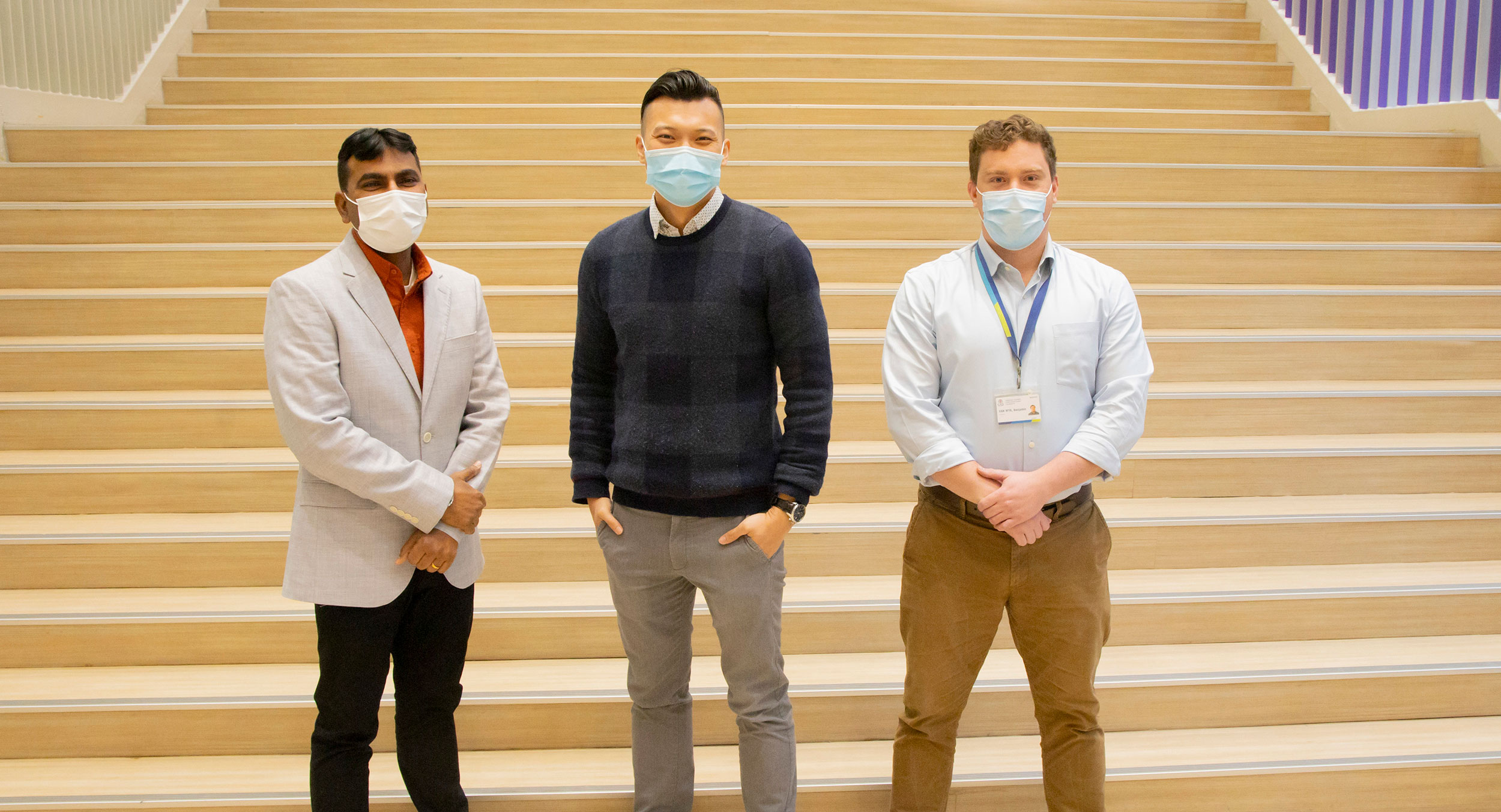 Have you heard the plan?
No, not the dinner or weekend plan, although a nice chicken shawarma meal or a weekend getaway does sound enticing.
We're talking about the plan Richard Nadar, CAIS Humanities teacher, makes to help students reach new heights.
That was also the thinking behind of the experienced educator.
"Things we teach in the classroom obviously are constantly evolving and as teachers, we are here to teach and learn simultaneously, " Richard says, explaining what's behind the scene of his daily job.
"The process is part of what makes teachers, teachers."
"Take Covid buzzword 'languishing' as an example, it's very relatable to what we're experiencing right now and that's not a new word, but rather it's a word that helps us define the moment when we are feeling 'meh' – the middle ground between flourishing and depression."
"And my job, along with other teachers here is to teach and create a safe space for students to grow and learn new ideas and to find solutions to get around feeling languishing, for example."
The best part
"The best part of the job is to expose students to ideas or experiences that they haven't had so far. I am always on the lookout for opportunities in expanding the horizons of our students' mind and experiences. I love helping students build frameworks of thinking in their lives."
The pandemic has not only elevated our digital skills, it's also lifting teachers' multimedia skills. A while back Richard created a simple website for an annual school event Spiritual Emphasis Days (an annual activity celebrating the Christian faith of the school). The website pulled content from paper and presented it on a digital screen. It was simple but an effective way to increase engagement with digital savvy students. From Zoom lessons, video recording and editing, to building website, Richard, like many other teachers, have been given a crash course on mastering the skills to 'repackage' his teaching style with a view to influence the learning community.
"The pandemic has had a huge impact on India, my home country, and it was a tough time for my family here and overseas. While the emotional stress can be overwhelming, the experience was a reminder for me to look for clarity, slow down and appreciate the things I'd previously taken for granted, which was also a message I'd like to get across to my students."
"Letting students take control of their learning is another thing that I am glad to see students picking up."
He himself is a good example of forging ahead with continued personal and professional growth. From jumpstarting student's interest in religious studies through podcasts to creating video series for stimulation-starved school community, he is literally showing how to regain control and make things happen, despite pandemic challenges. Plus, he is also undertaking a Master's degree in International Educational Leadership and Change.
Looking on the bright side
The experienced educator who used to be a coach for educators in Mumbai, India, had chosen to relocate to Hong Kong 17 years ago and has been with CAIS since its start.
Born and raised in "India's Financial Capital", Richard suggests that Hong Kong students can often be shy at times when they could be more articulate to voice out concerns or questions and find solutions with their peers through discussions.
"Whereas students in India are very engaged and they are really active in classroom discussion which I think we can all learn from."
"On the other hand, things that I think they can learn from Hong Kong students is the desire to cultivate skills in other areas apart from academics such as sports, music, dance,etc."
Richard, when reflecting on things that he will (try to) keep doing from this past year, sees the opportunity to continue leveraging educational technology in learning.
"Thinking out of the box when approaching various things is important. I would like to incorporate some new learning technologies that I equipped myself with this year and work on it."
The educator who has deep experience in connecting students believes that meaningful education is accompanied by informal chats and conversations outside the classroom which can't be accomplished behind a computer screen.
"Engaging with students not just on academics but on the daily affairs of life truly opens my eyes to the reality of genuine human experiences. This cannot be ignored."
And for him, food opens the door for him to communicate and learn.
"If at all I've to leave Hong Kong for any reason, I would truly miss 'Yum Cha'. It's not food rather it's about the wonderful conversations that happen, which makes the food enjoyable."
"I have had the privilege of spending some good amount of time with people conversing on different topics such as meaning and purpose of life, existence of God, moral dilemmas as well as health issues."
"Like the community where I grew up in, people here in Hong Kong are very social."
"Conversations just happen naturally and food really provides the connectivity that reaches people from all sorts of backgrounds, ethnicities and ages."
Communication is key
"If my past experience has taught me anything, it's not what things or programs we do but how we do them."
An IoT (Internet of Things) device Scribit is the latest gadget students have gotten their hands on during which they need to use the "printers for walls" robot and turn vertical surface into an interactive canvas.
"Students often get the most out of the experience when working and communicating with others and in the process they better understand each other through varied perspectives and that reciprocity is the catalyst for effective communication, an important skill for everyone to have under their belt."
And this is also one of the areas he wished he would focus on developing if he was given another chance to start over and work at it again but better.
"My career relies heavily on good communication with students, parents, colleagues. It is something I'd love to spend more time to work on it, either at work or in my personal life."
As he gets busy helping students reach new heights, his passion for education has also led him to take up more challenges.
The multi-lingual educator who speaks English, Hindi and Tamil (and Cantonese is the next to conquer) is excited to wear another hat in the next academic year as he becomes the IB teacher for Theory of Knowledge (one of the core subjects in the IBDP curriculum).
"Despite the challenges we have, it hasn't damped our spirit and the new curriculum the school is delivering and my new role is like how we try new things to get through the "unlockdown" stage, just like what other countries are currently doing."