Samuel Lee, Primary Homeroom Teacher
Samuel Lee: Children Learn More From Who You Are Than What You Teach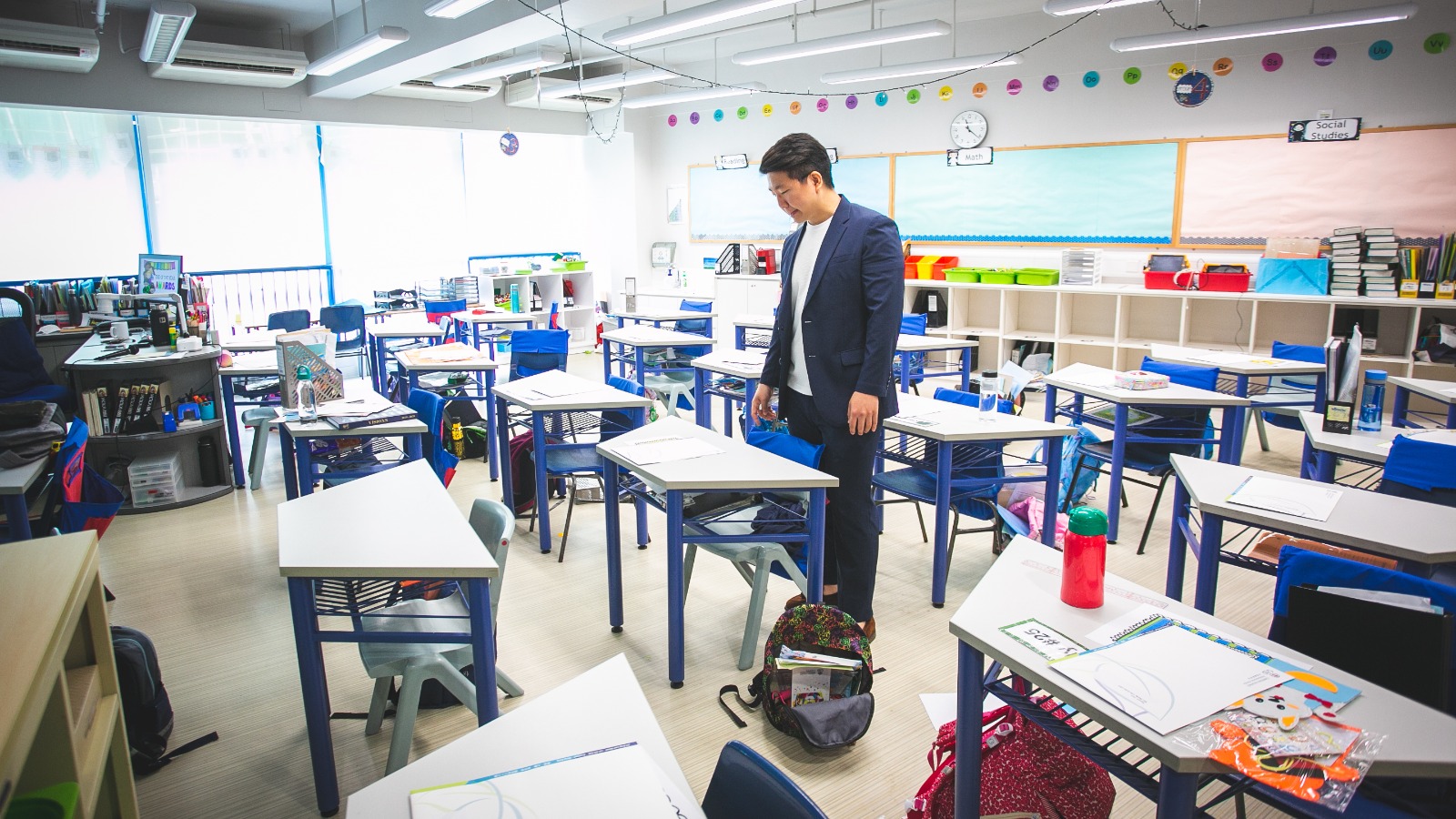 Forget classes, assignments or year-end exams. For CAIS teacher Samuel Lee, there's nothing more rewarding and satisfying than making an impact on students, one step at a time.
Samuel has been with the school for five years. He is among the cohort of passionate educators behind CAIS who are not just teaching students knowledge on the textbooks, but he's also showing so much grit to care for students, and inspire them forward.
At the age of three, Samuel moved to Hong Kong from California with his family. He was later presented with an opportunity to work at CAIS which he gladly accepted, eventually becoming an integral part of the CAIS multicultural fabric and the dynamic learning community. The rest is a testimony of God's faithfulness and grace multiplied manifold.
We understand that change takes time – and education is no exception. Samuel shares with us the challenges involved  in education, his favourite CAIS moment, and what food he misses most when he is away from Los Angeles.
Where did you grow up/study?
I was born in San Francisco, California. When I was three years old my family moved to Hong Kong as missionaries. I went to a private Christian school from Prep till 10th Grade, so most of my fond memories are from Hong Kong.
Can you tell us more about your role at CAIS.
I am currently working as a Primary Homeroom Teacher.
How did you wind up here?
I flew from Los Angeles to host my best friend's wedding. The cohost was a teacher at CAIS and she suggested that I should apply as a Primary School teacher. I remember watching the CAIS promotional video enroute to Los Angeles and was moved by the testimonies that both the staff and leadership shared. I applied and the rest is history being made inside of one of the many classrooms in CAIS.
How long have you been with CAIS?
5 years.
Biggest challenge and rewarding moment working in education?
The biggest challenge for me is to "be authentic." I love the phrase: "Children learn more from who you are than what you teach." If I as a teacher love God and love my students, then my students and peers will reciprocate that love to themselves first and then to others.
Your favourite/ most memorable CAIS experience?
My favorite moment is with one student – let's call her Beth.
Beth is a talented student, but one day on she was caught stealing. When confronted, I marvelled at her ability to explain away her act with a carefully crafted lie; in my mind I envisioned this child growing up comfortable in living a life punctuated by made up narratives . Various thoughts crossed to my mind as I wondered: "What actions do I need to take to deal with her behavior? Do I have to lock the doors every time the class left for recess?"
My heart was heavy because despite my preparation to "deal" with this child, it did not settle well with me.  At Church, the following Sunday morning, I was listening to a sermon on Abraham, and how God did not even ask about Abraham's past. Instead, God looked straight at Abraham, blessed him and said: "You are a source of blessing, you and your family will be as numerous as the stars." At that moment, I realized that Beth was no different. Yes, society would label her as a thief and liar, but God saw this precious child as a "source of blessing."
The subsequent encounters between Beth and I were transformative; conversations started and ended with the words: "We are a source of blessing." Beth did struggle to go against her habit, and there were moments of relapse and endless tears and affirmations that "we are a source of blessing." As the academic year drew to a close, there was another incident where a child was caught stealing and lying as well – Carl (not his real name). During our class break, I mentioned to Beth that there was another incident of stealing in our class from a different student, and I asked her "What should we do?" Beth responded: "We need to help Carl".
That afternoon Beth and I both shared our experience with Carl, and it was a memorable moment where a student and teacher came together as a team to help another student in need.
What are some of the initiatives you will be/ are working on which would potentially be translated to physical application?
There are many initiatives I am currently working on and over time, I would love to share with our readers.
What kind of student were you?
I was quite quirky and an average learner. Most of the topics could be understood, but I had to really work hard to get the grades. Like most boys, I worked on my assignments as quickly as I could so that I could play with my friends.
What do you miss most about Los Angeles when you are overseas?
Various types of food from Los Angeles, especially Vietnamese noodles. I miss eating a bowl of Pho from a restaurant called Golden Deli in San Gabriel, CA. Golden Deli is a family restaurant, the family members boil bone marrow in water overnight till there is a deep broth left behind. On the day of service, they will pour this golden delight into a clean bowl of beef and tendon. They would then serve the bowl of broth and meat with a special rice noodle, perfected to maintain its consistent chewiness while soaking up all the flavor. Finally they will sprinkle a bit of chives, green onion, and cilantro, and then voilà dinner is served. The idea of writing this alone makes me salivate.